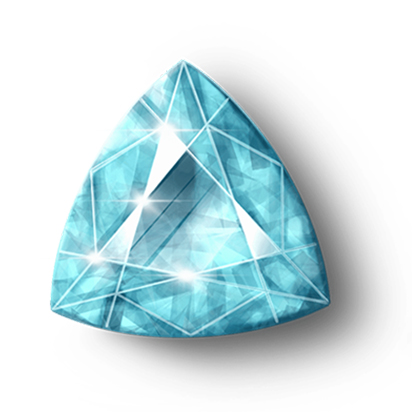 Being the nickname of Antarctica, it is the heaven for marine animals, the land of penguins. As climate change causes temperatures to rise, the ice caps are melting. Melting Antarctic ice can potentially raise global sea levels by hundreds of feet. Even a few feet of sea level rise would be catastrophic for millions of people, destroying sources of fresh water and farmland with salt water and displacing millions of people. Understanding Antarctica's role in climate change is an immediate priority for the community.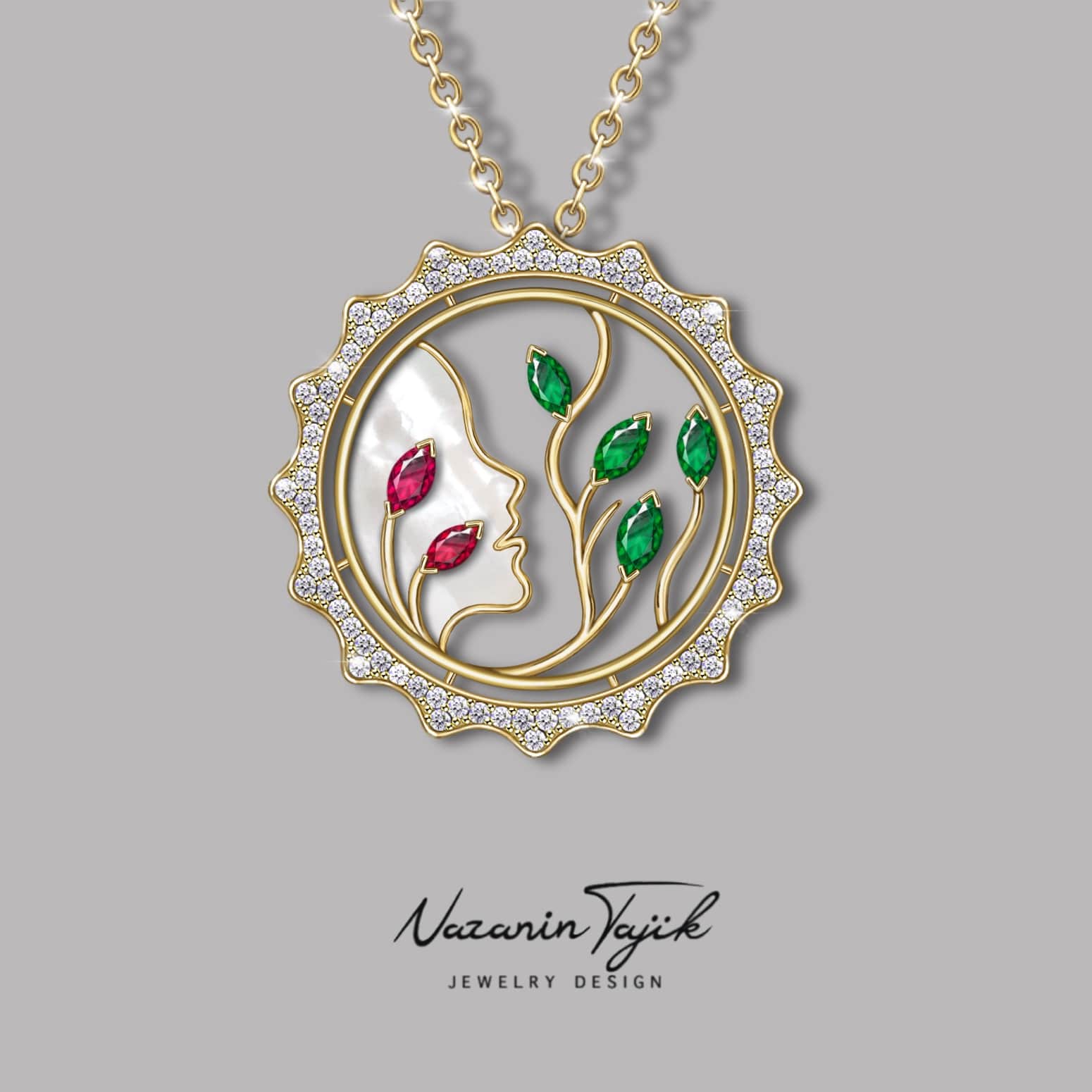 Mehr or Mithra is a Persian deity who has been the symbol of the covenant, light, justice, and the Sun. Mithra is a feminine name symbolizing women, warmth, and giving unconditional love and affection. 
A symphony to celebrate the beauty of purple when the notes are even written in glittering white and chic purple; it is the small notes' harmony that gives birth to such a symphony.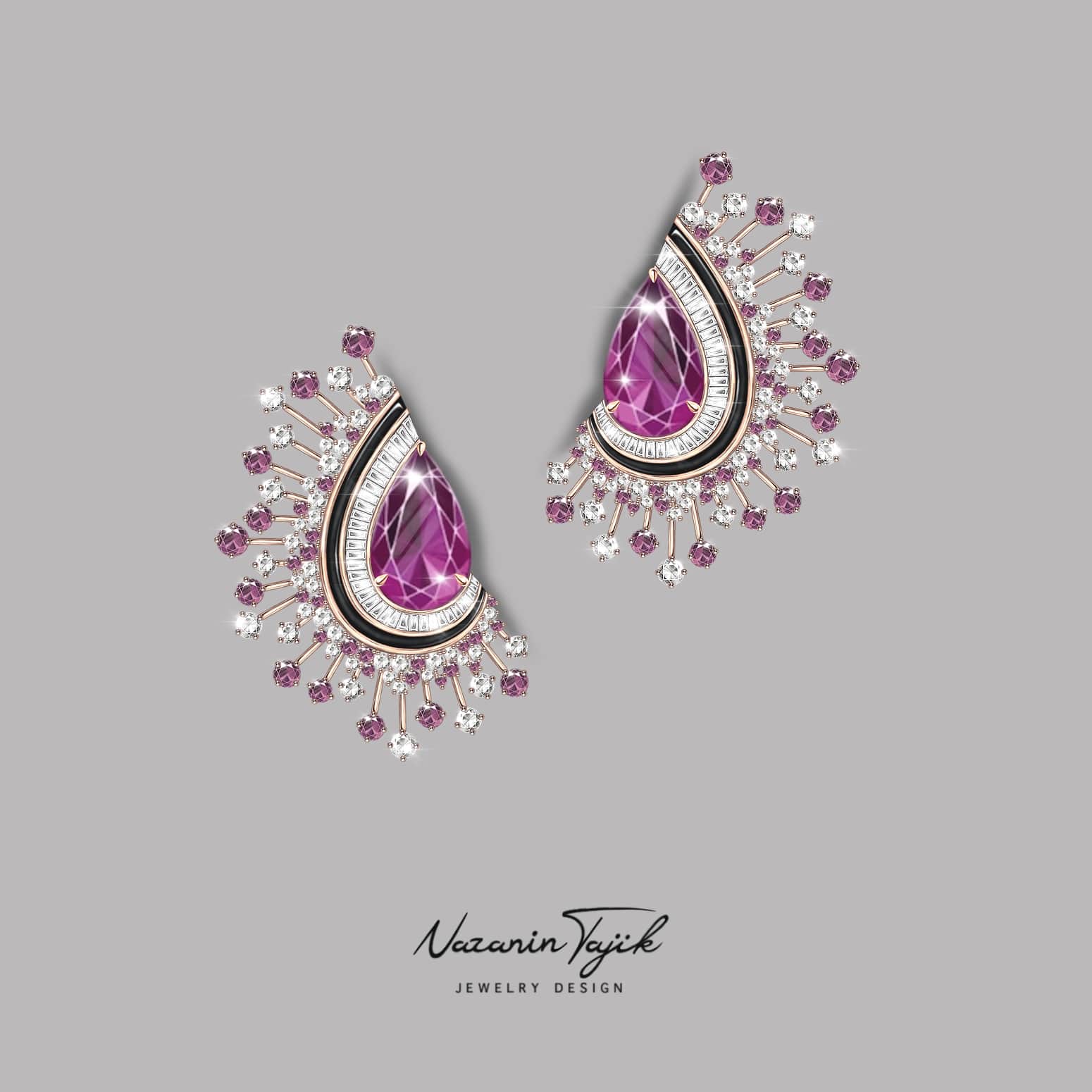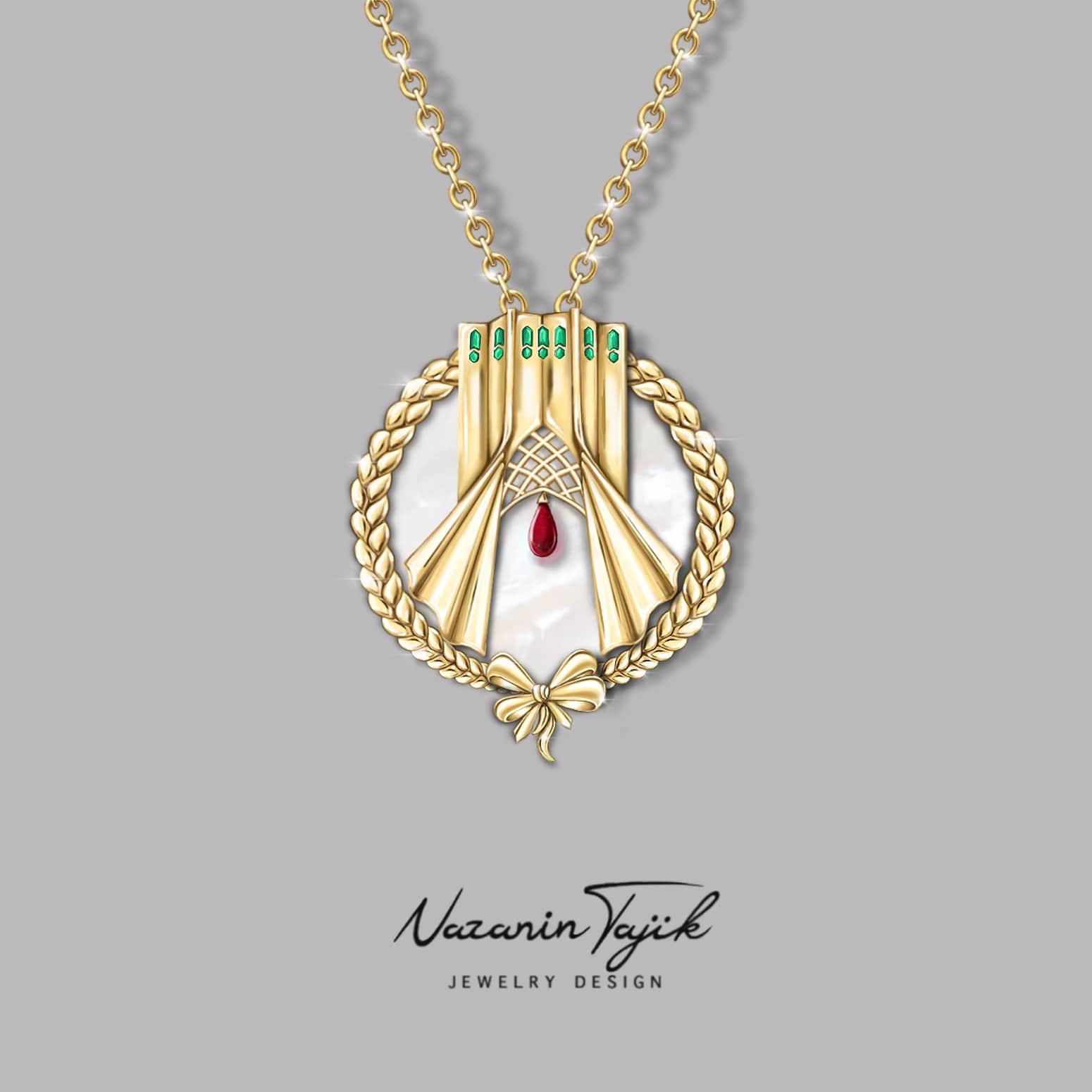 Meaning "freedom" in the Persian language is also the name of a landmark in Tehran, Iran. It is entangled by the golden, braided hair of women who are united in fighting for their freedom and equal rights.
Custom Design
A half-set collection of earrings and necklace decorated with diamonds surrounding two blood-red rubies per piece.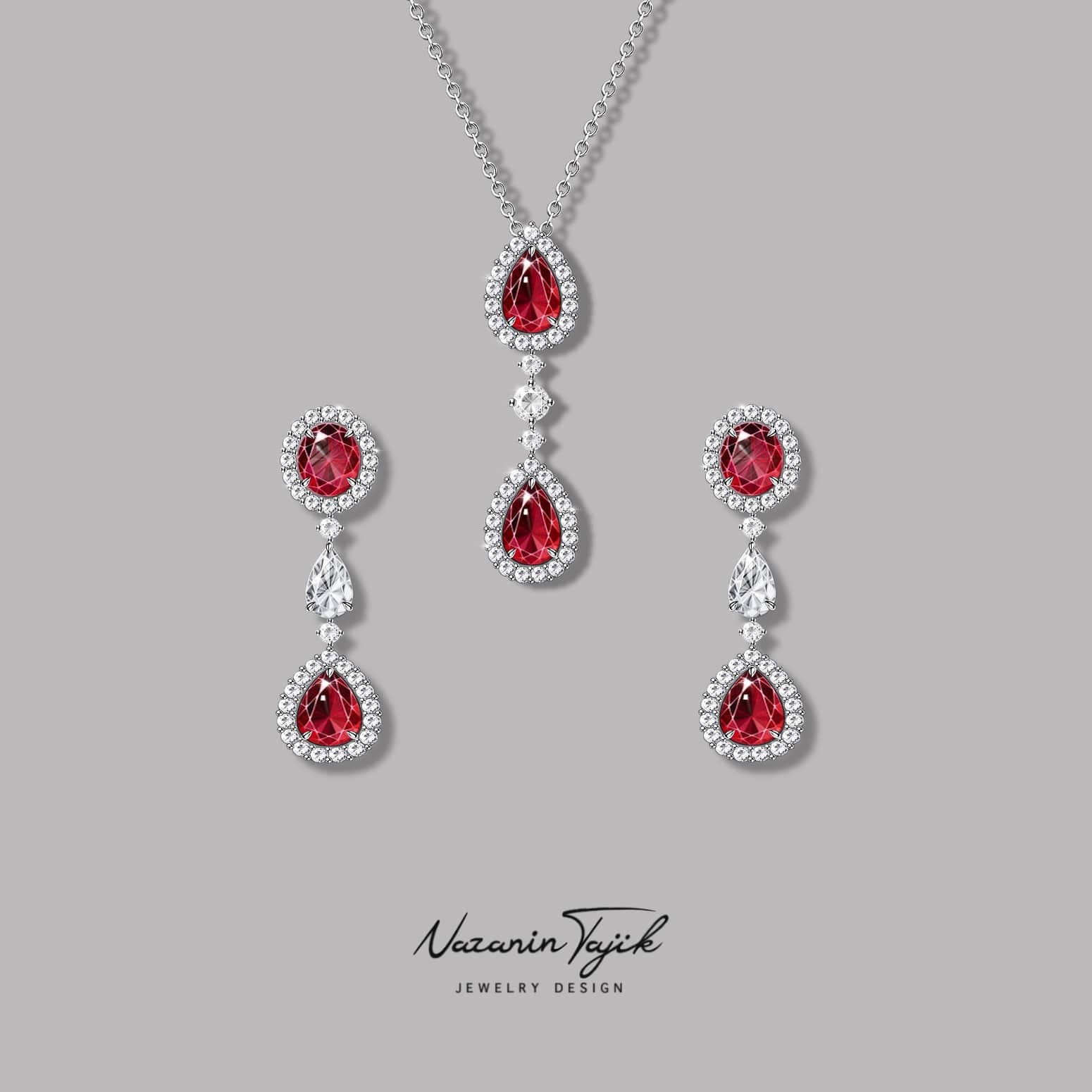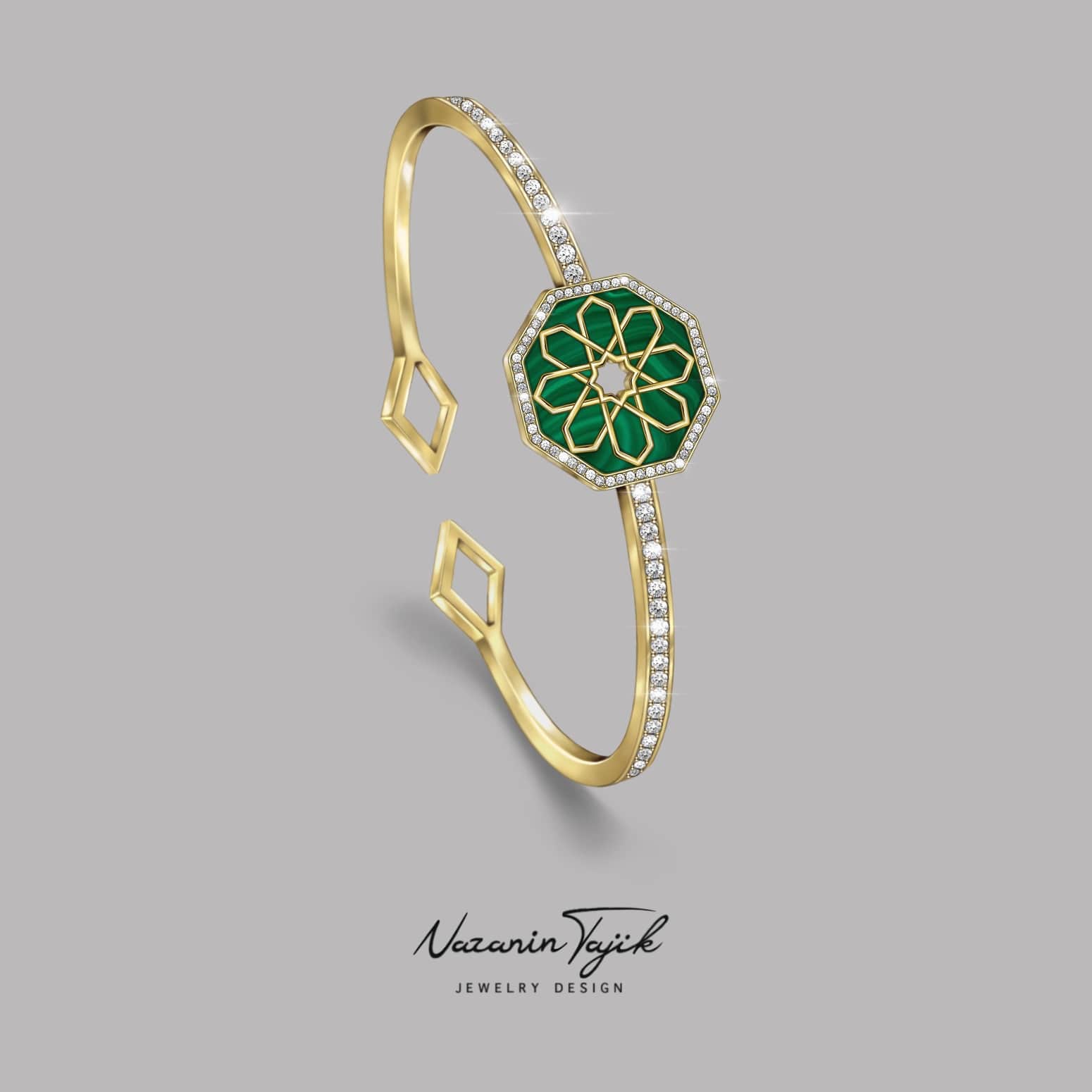 Custom Design
A bangle with Arabic design inspired by Sheikh Zayed Mosque in Dubai. malachite gemstone surrounded by diamonds and yellow gold.
From the word "Khoorshid" meaning the Sun, Khoor depicts an epic moment when the Sun rises from Freedom Square (Azadi) in Tehran; the freedom which was hard-earned by the youth's sacrifices. Tulips symbolize the young blood shed on the street.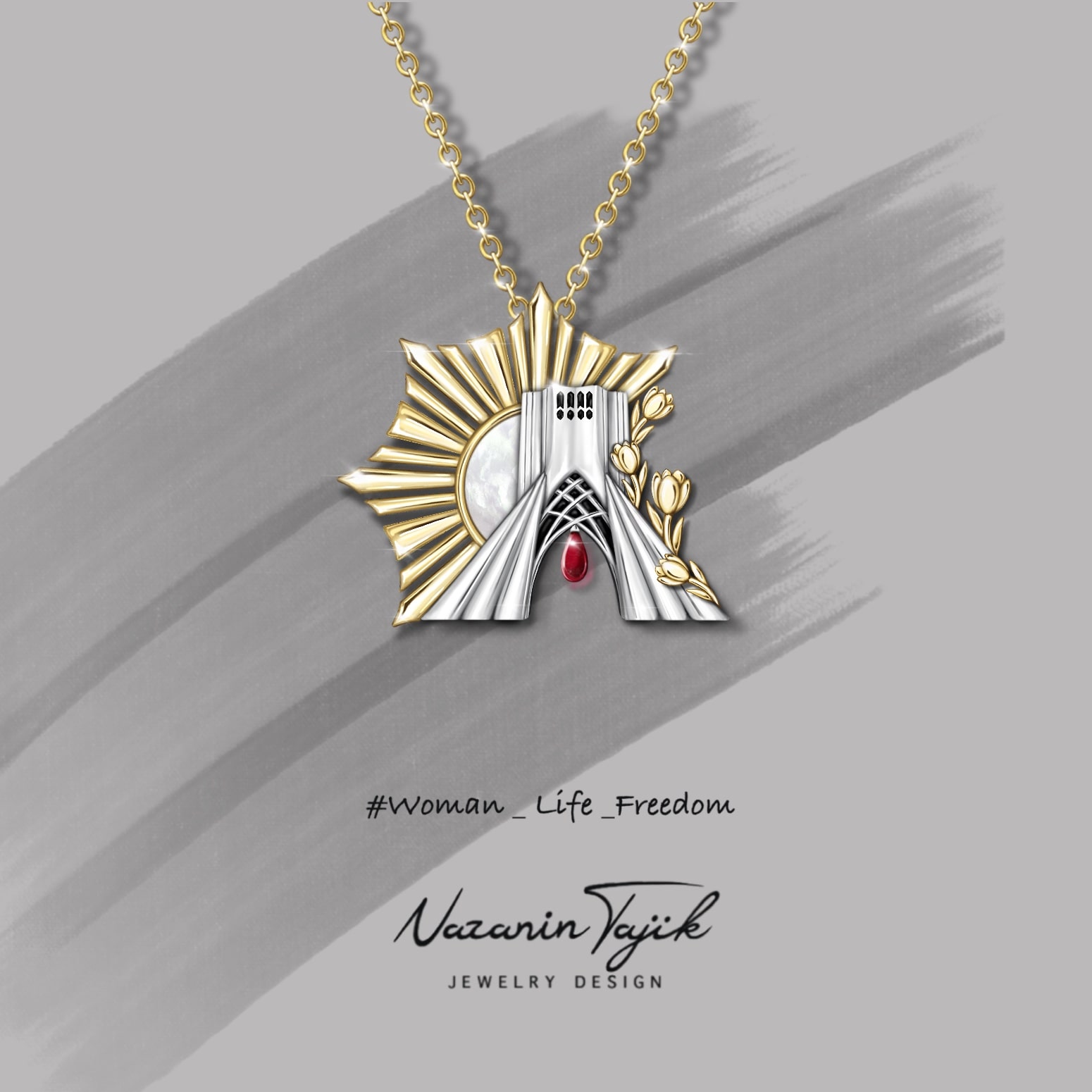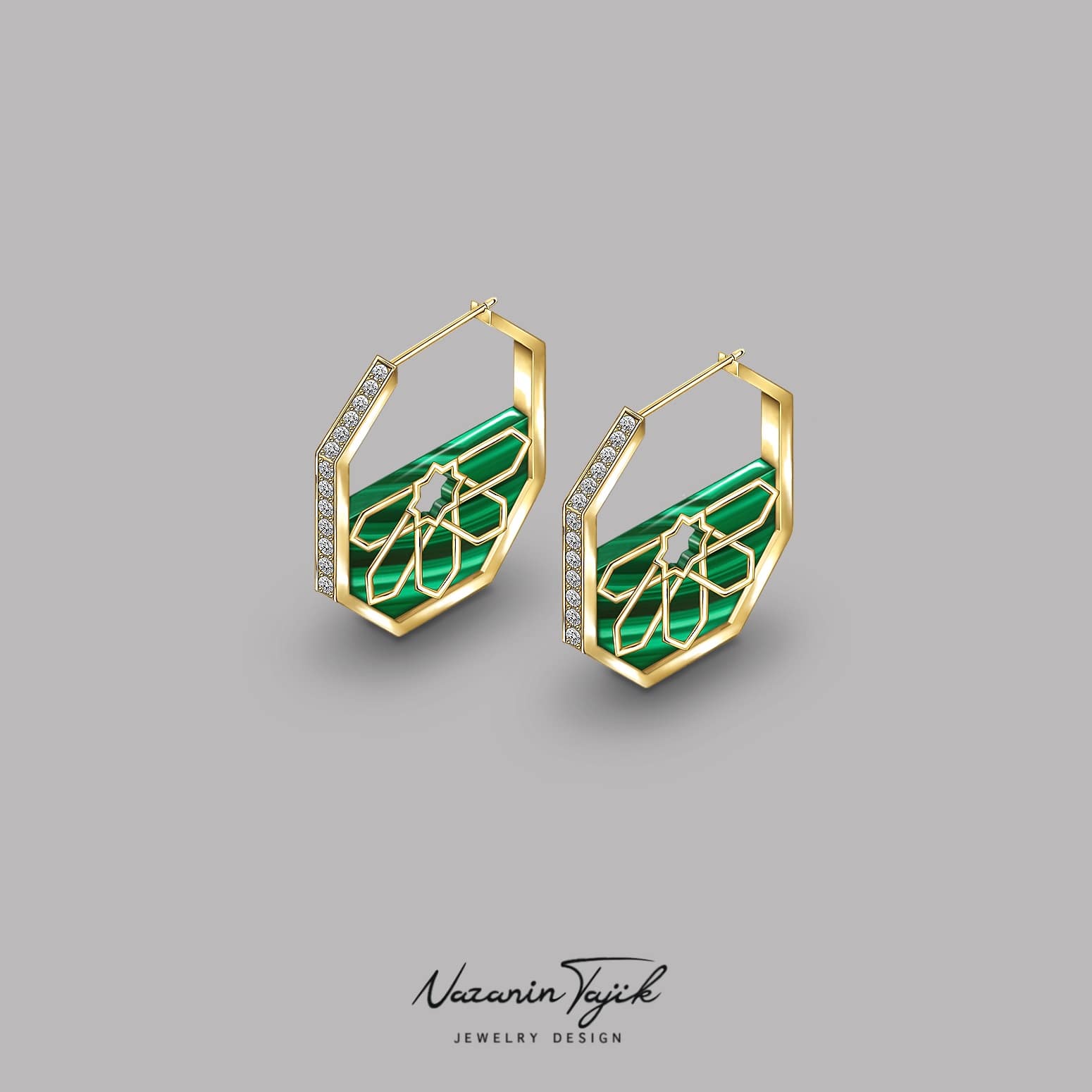 Custom Design
A geometrical set of earrings with Arabic design inspired by Sheikh Zayed Mosque in Dubai: malachite gemstone, diamonds, and yellow gold.
Custom Design
A pair of easy-wear earrings inspired by a Malaysian company pattern in gold and diamond.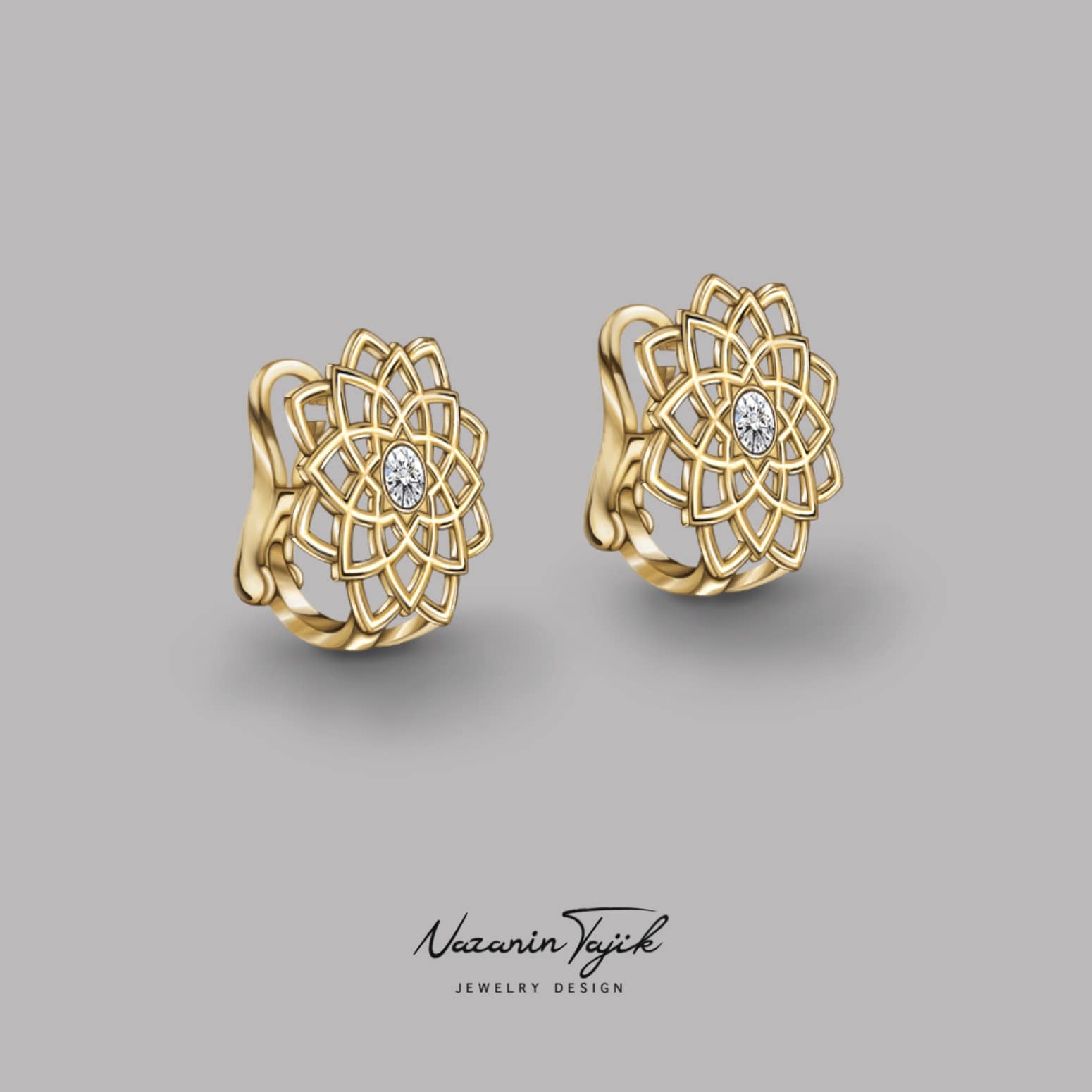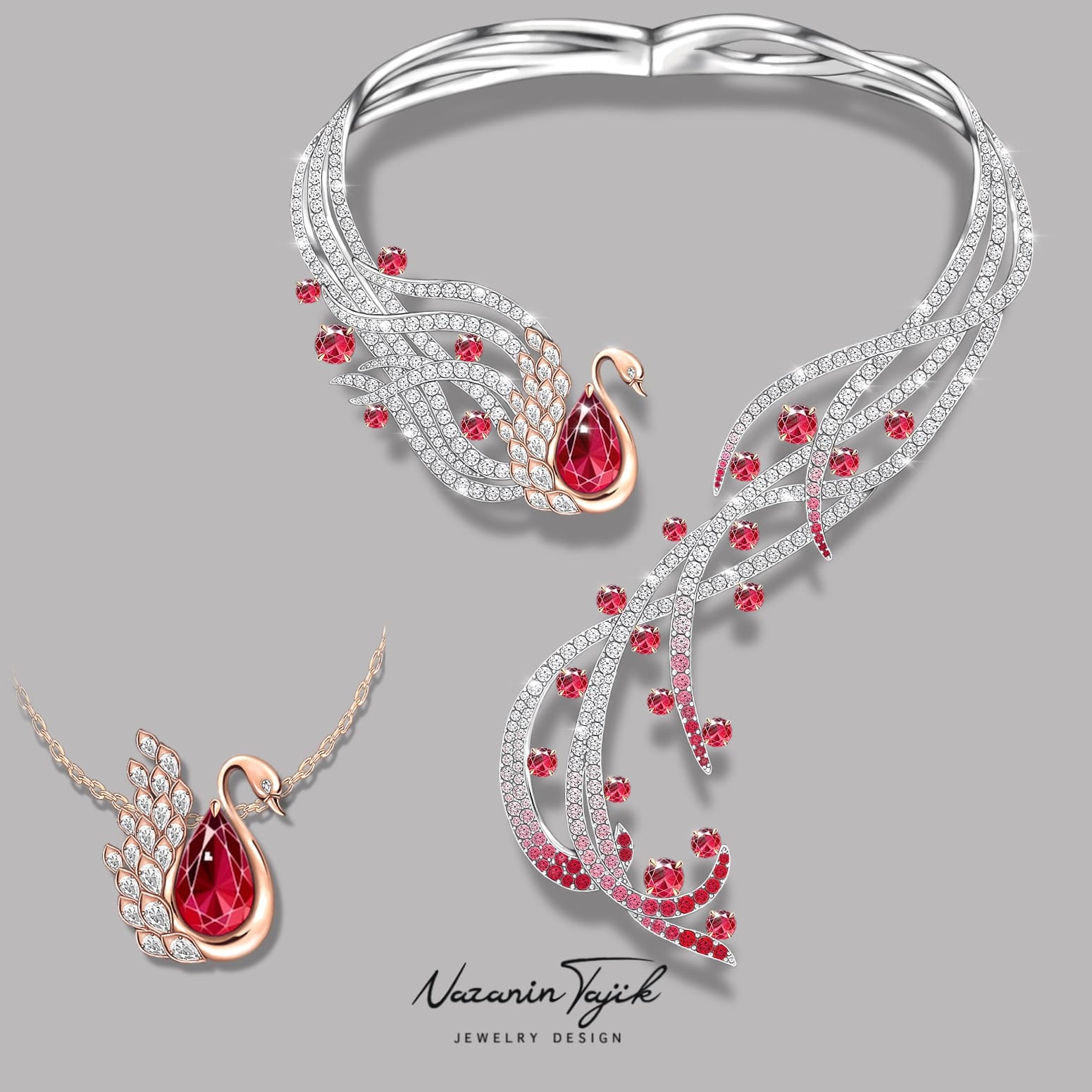 Inspired by Gibran Khalil Gibran's famous quote "And when his wings enfold you yield to him, Though the sword hidden among his pinions may wound you", the hinged, open-collar necklace is made of ruby, diamond, and white gold. 
Premium
Inspired by the traditional Persian windows, the earrings show rays of moonlight penetrating colored glass and lightening a Persian living room at night, shown here by sugarloaf sapphire.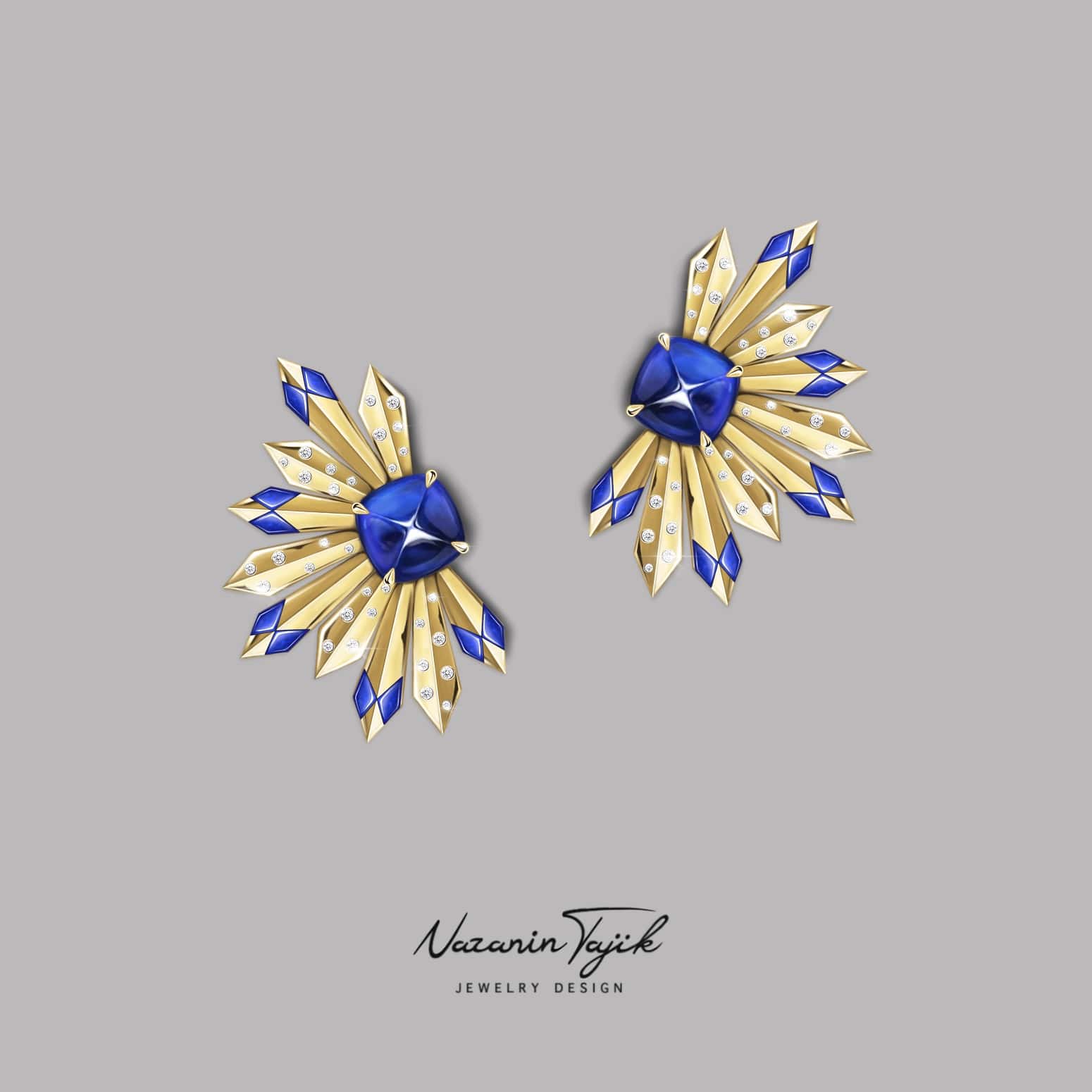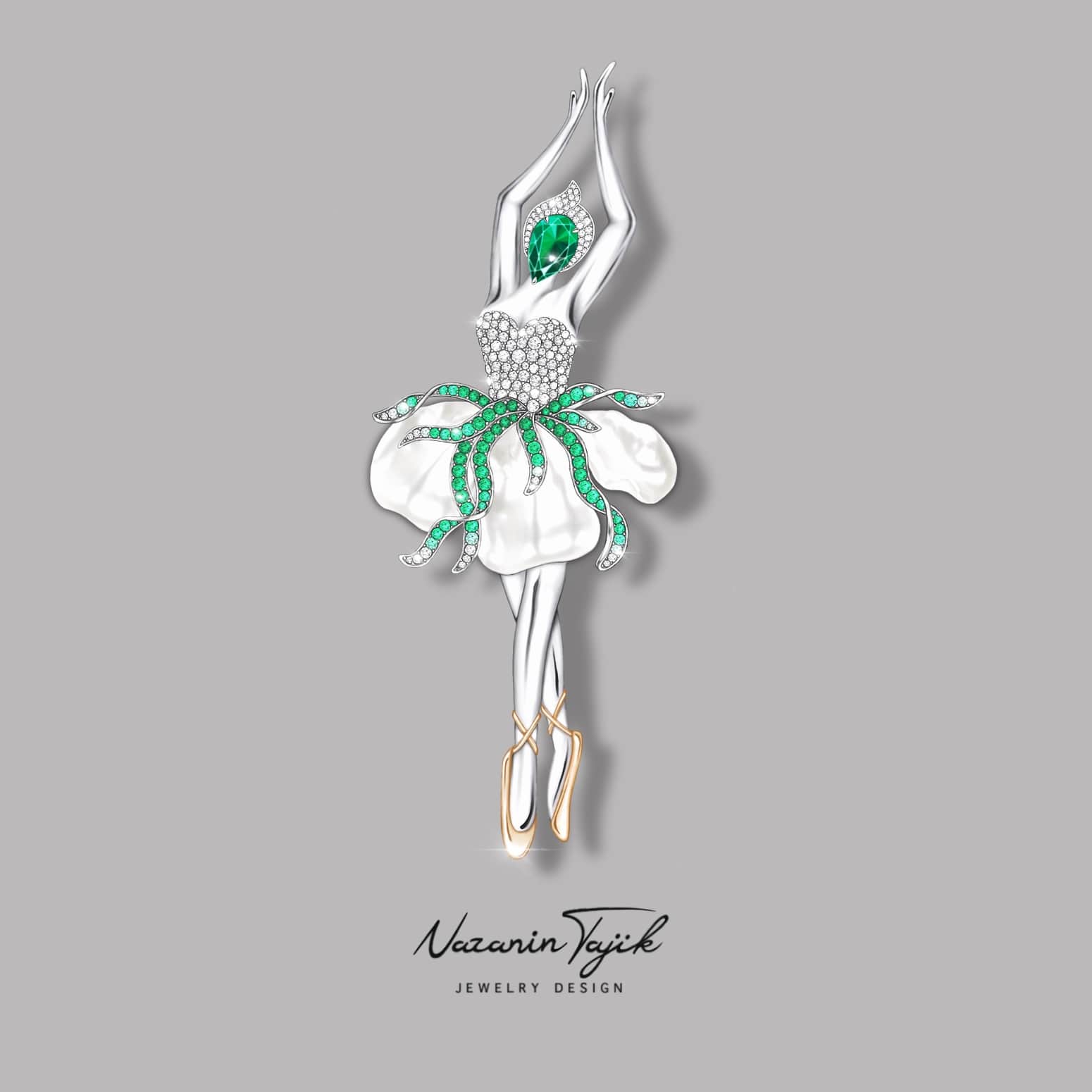 Premium
A female ballerina resembles spring when flowers burgeon decorated by the natural baroque pearls with diamonds, emeralds, and gold.
Mother Earth, Gaia, inserts life into one's life, giving birth to a glamorous future. The ring is designed using white gold, diamonds, and emerald.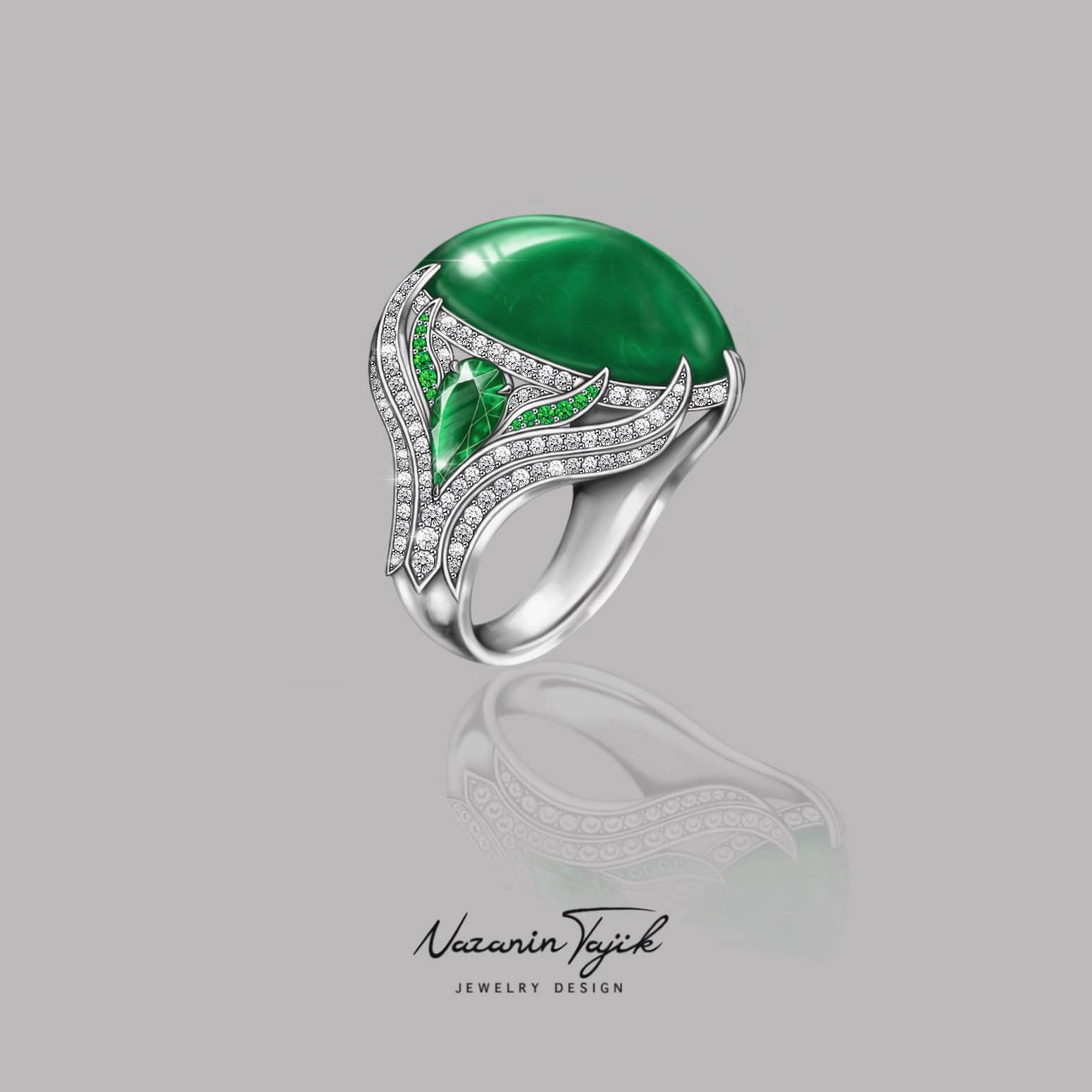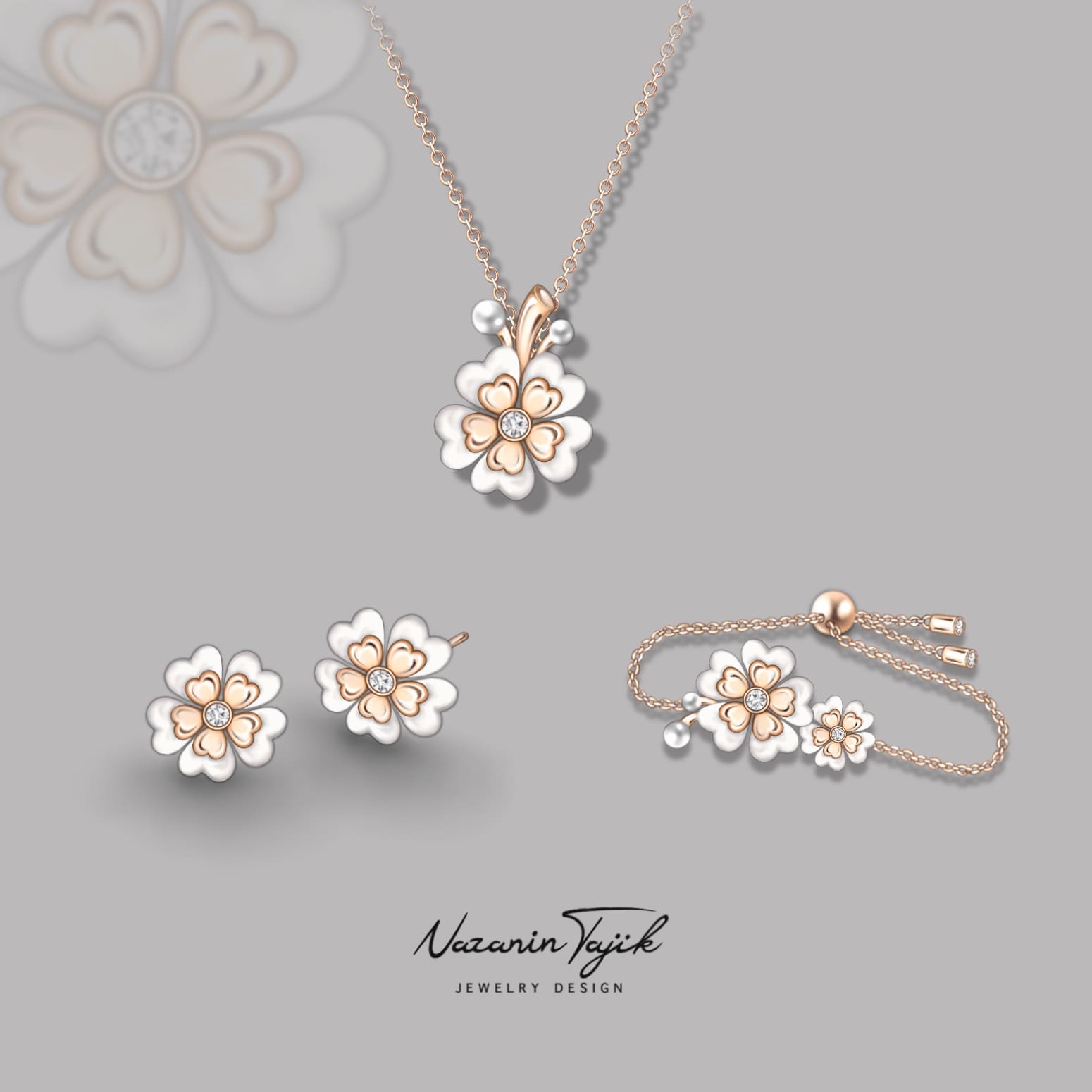 Custom Design
An eye-soothing set of rose gold embedded in pure white seashells with a gentle touch of pearls, especially for children and teenagers who wish to wear gold in the most modest yet elegant way.
Custom Design
A sample of all celestial objects in one pretty necklace with round diamonds as stars and the moon crescent separated from the sun by black enamel representing the vast universe.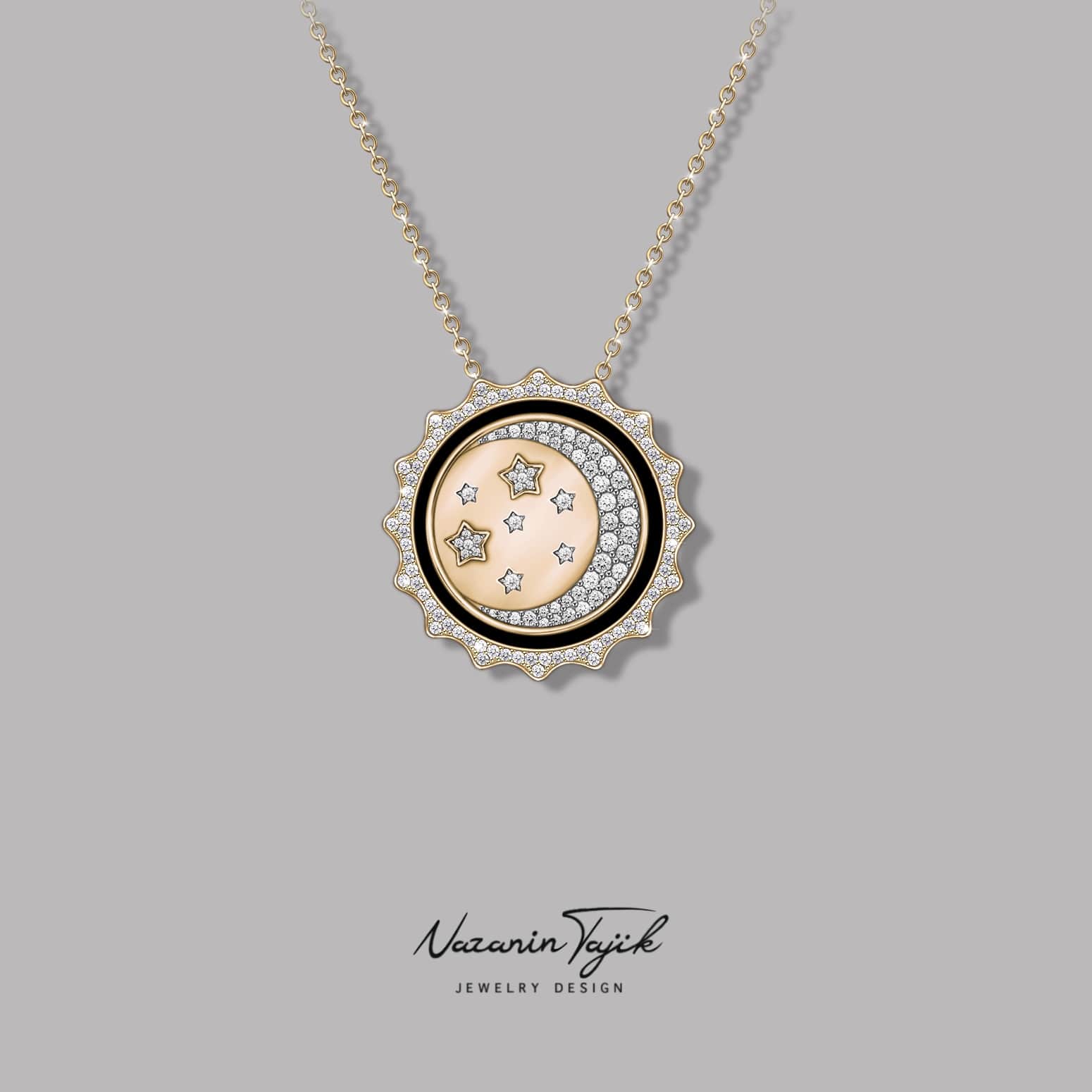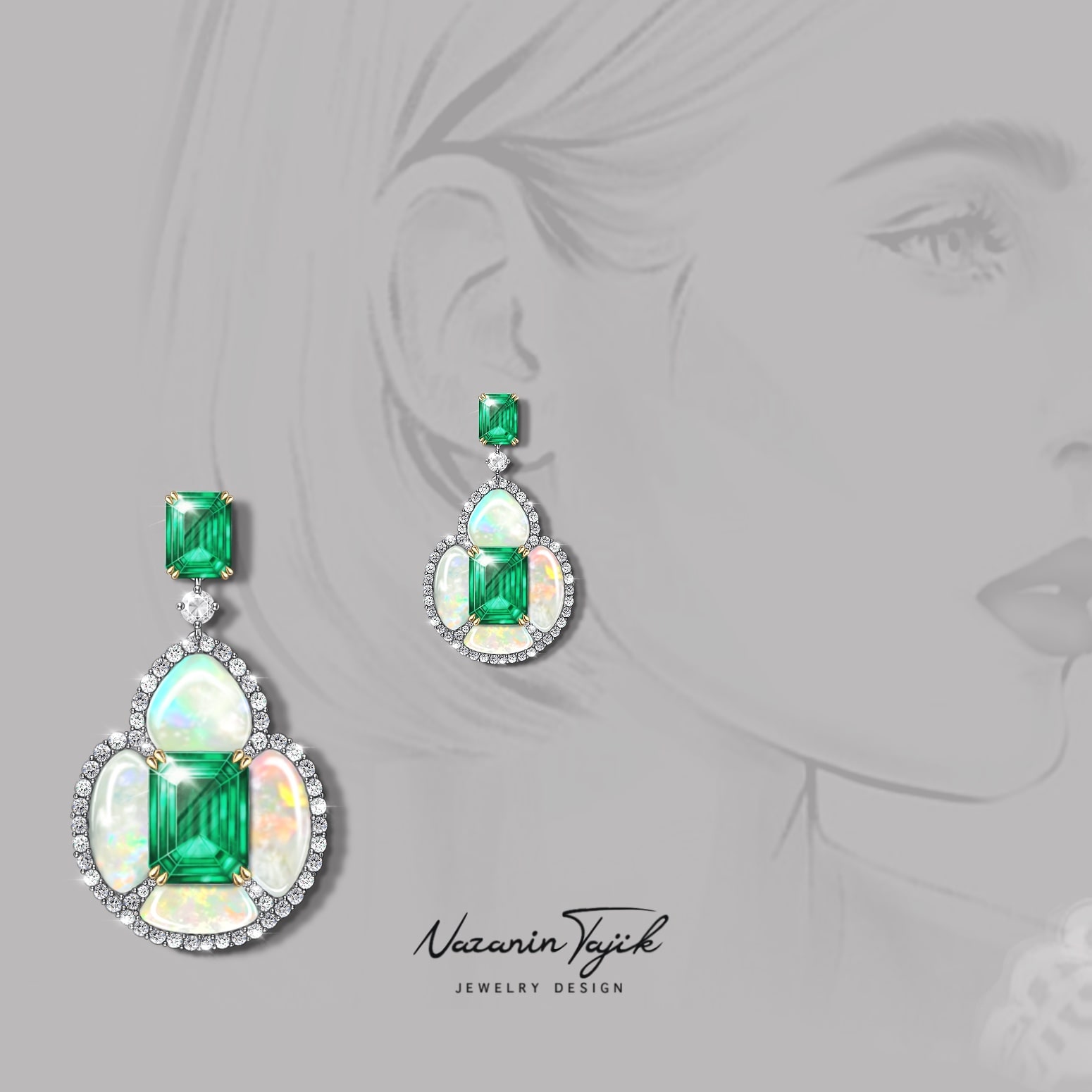 Custom Design
The earrings are made of opal with an emerald in the middle. The lovely set gets inspiration from Persian rugs' floral patterns. Cypress symbolizes height and youth in many cultures.
An exquisite necklace holding the fruit of its artist's touch in the form of a large, pink, tourmaline stone held by blossoms represented by diamonds.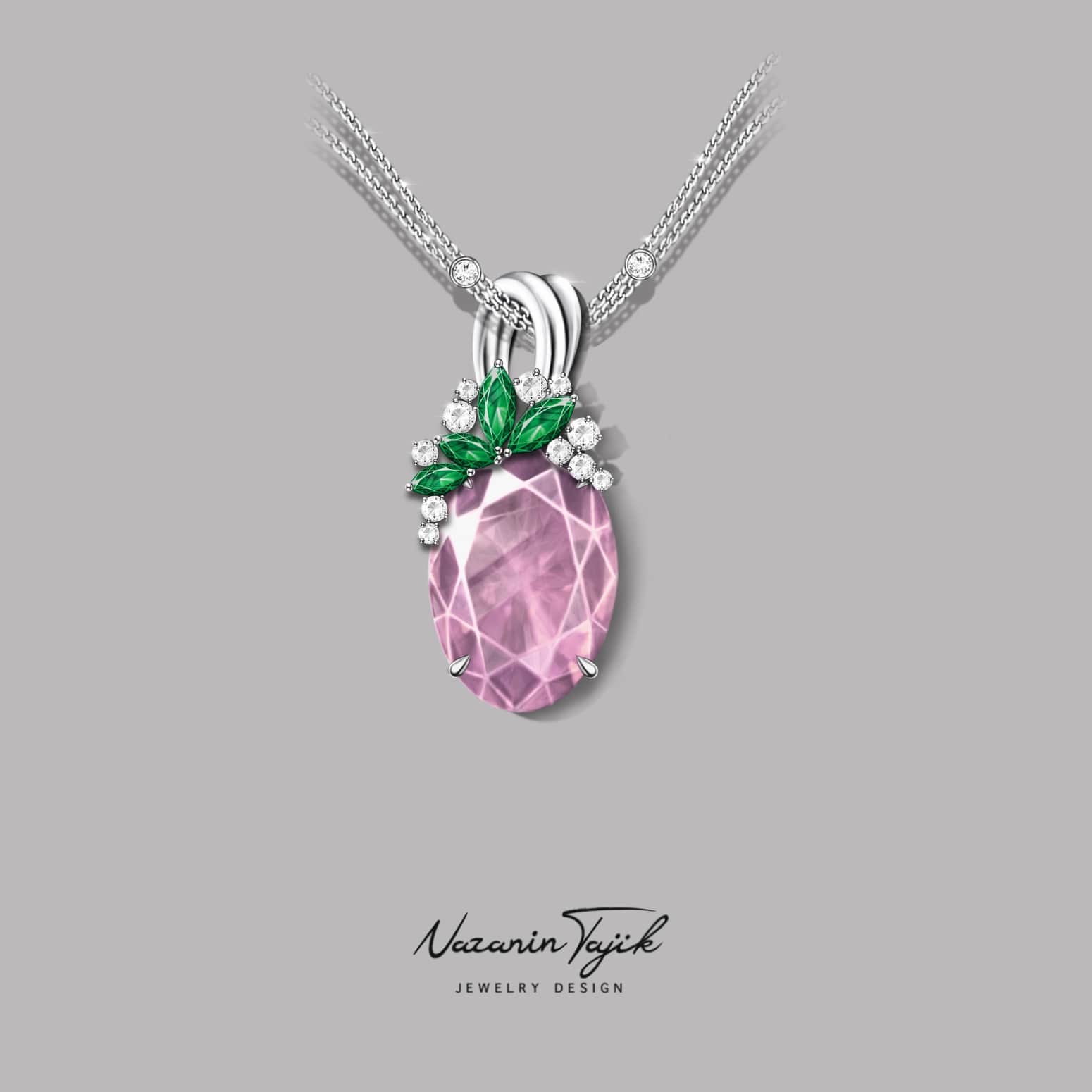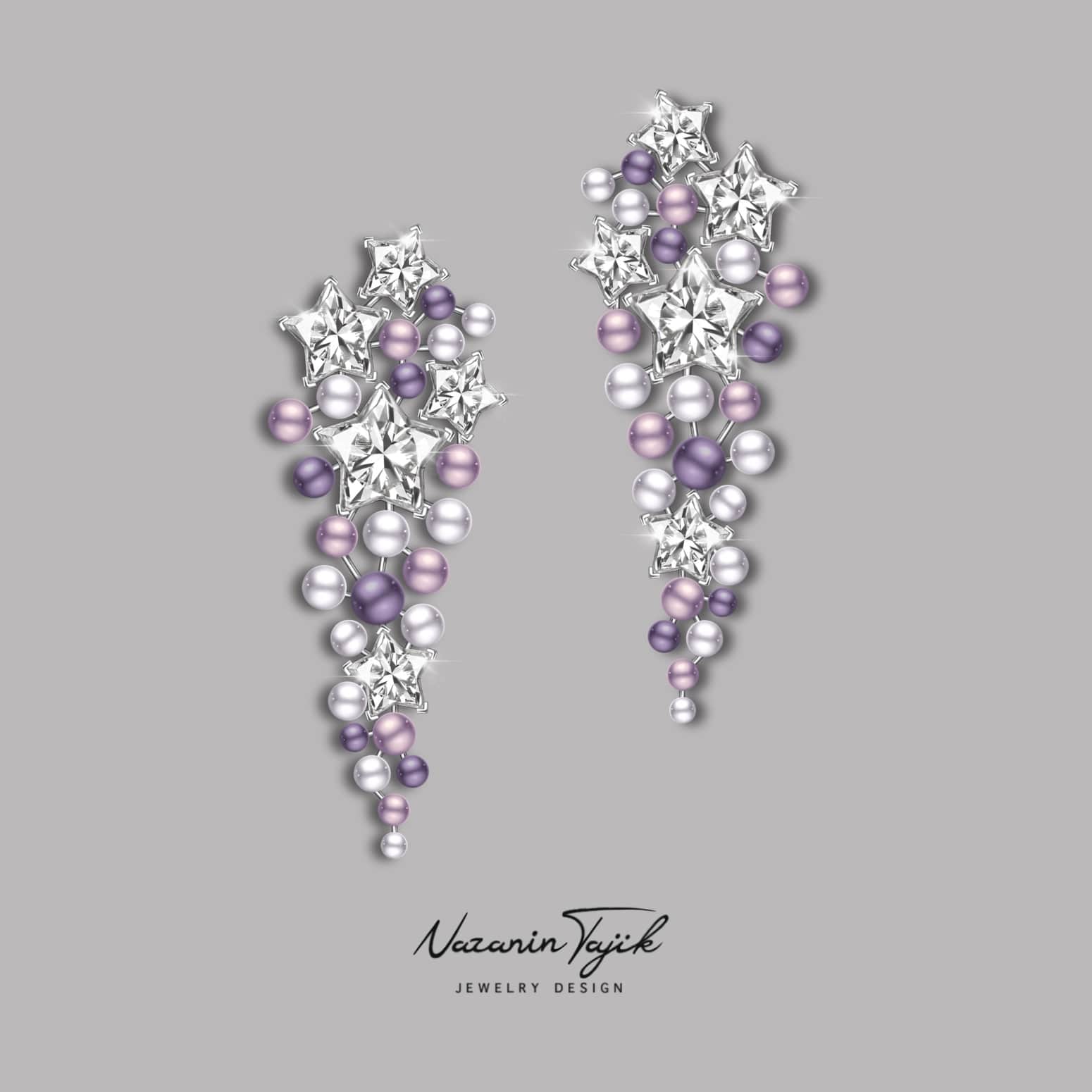 The lucky wearer is putting on two galaxy clusters that are home to billions of stars and planets which are all connected similar to the night sky's constellations.
The design represents Persian architecture in old markets' ceilings, shaped like a dome, in Kashan and Isfahan. The ring enjoys a turning jewelry mechanism allowing the wearer to choose between the turquoise (on the left) or opal stone (on the top right).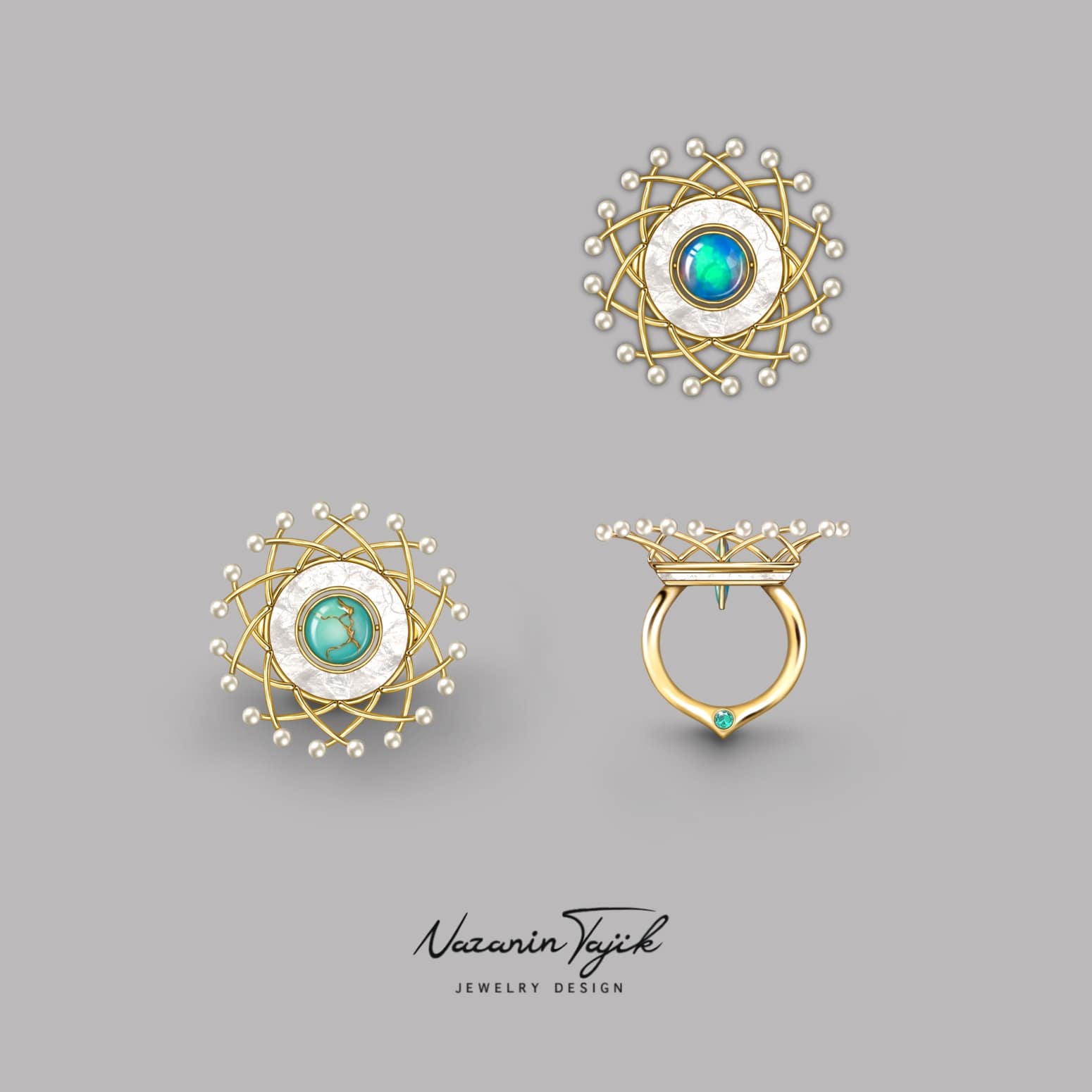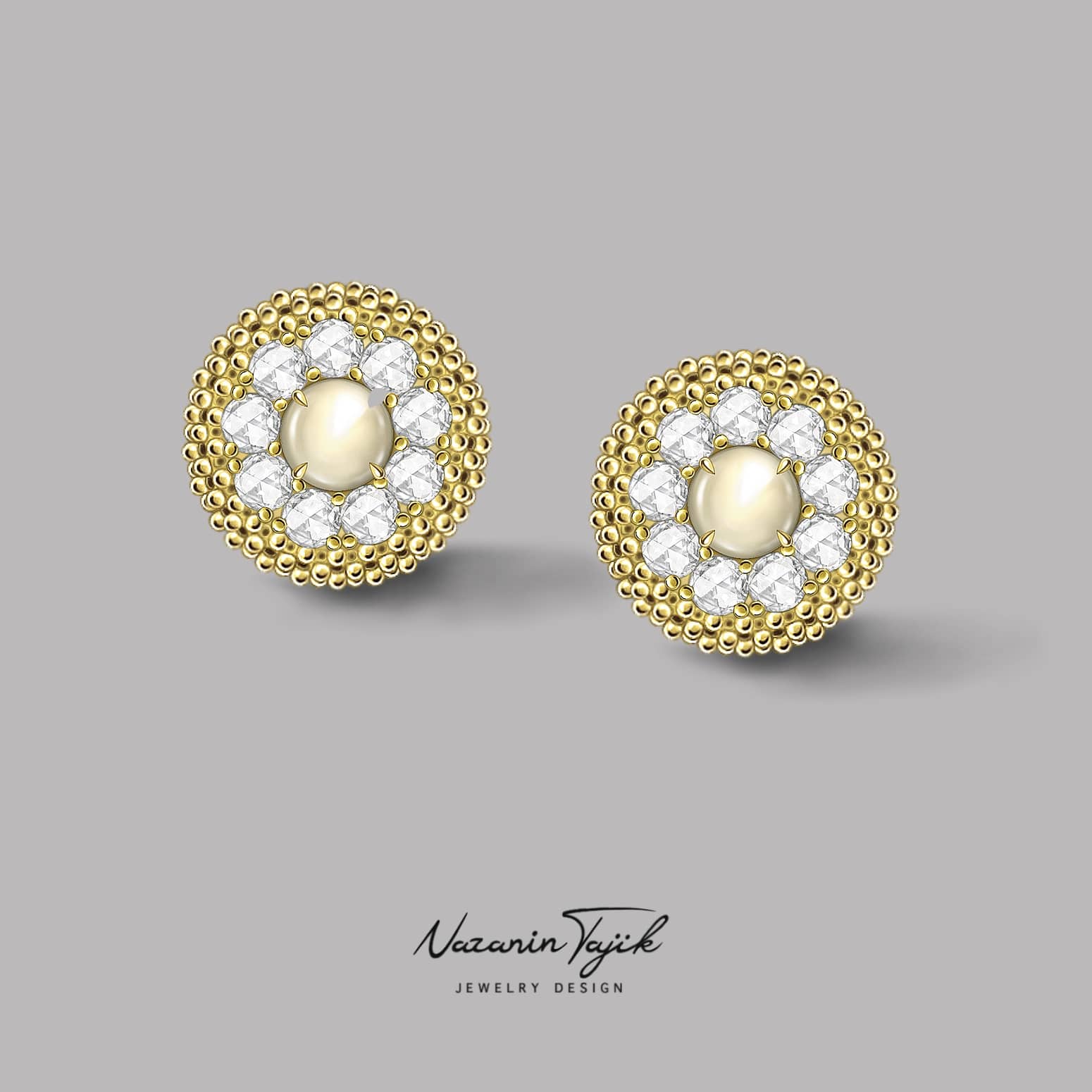 Custom Design
Wheels made of crystal with a moonstone in the center resembling the wheel of fortune radiating wealth and prosperity for the wearer.
Winter Solstice, also known and celebrated by the Persians for millennia as Yalda, is the longest night in the northern hemisphere. The necklace depicts the sun's desire to increase her presence from Yalda on.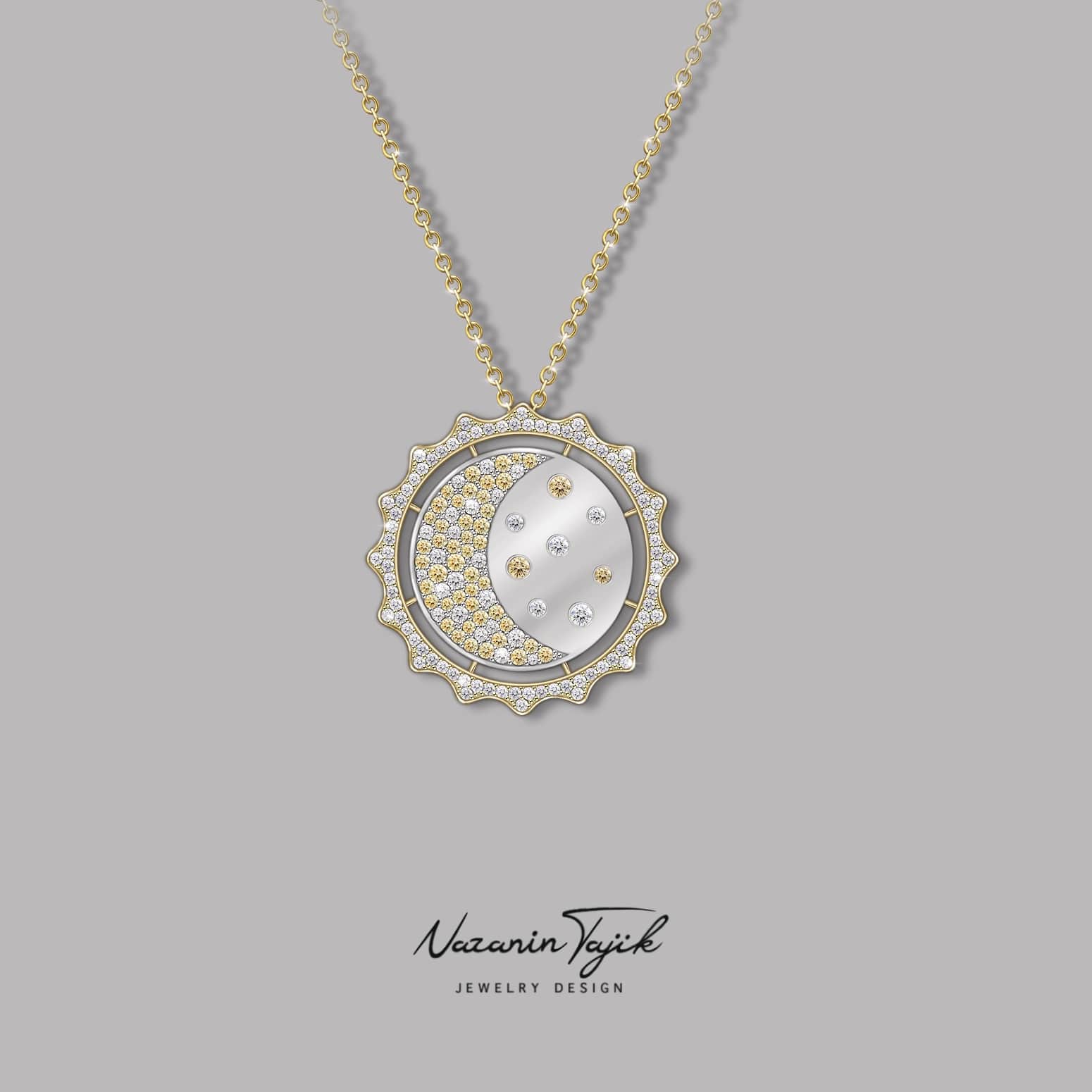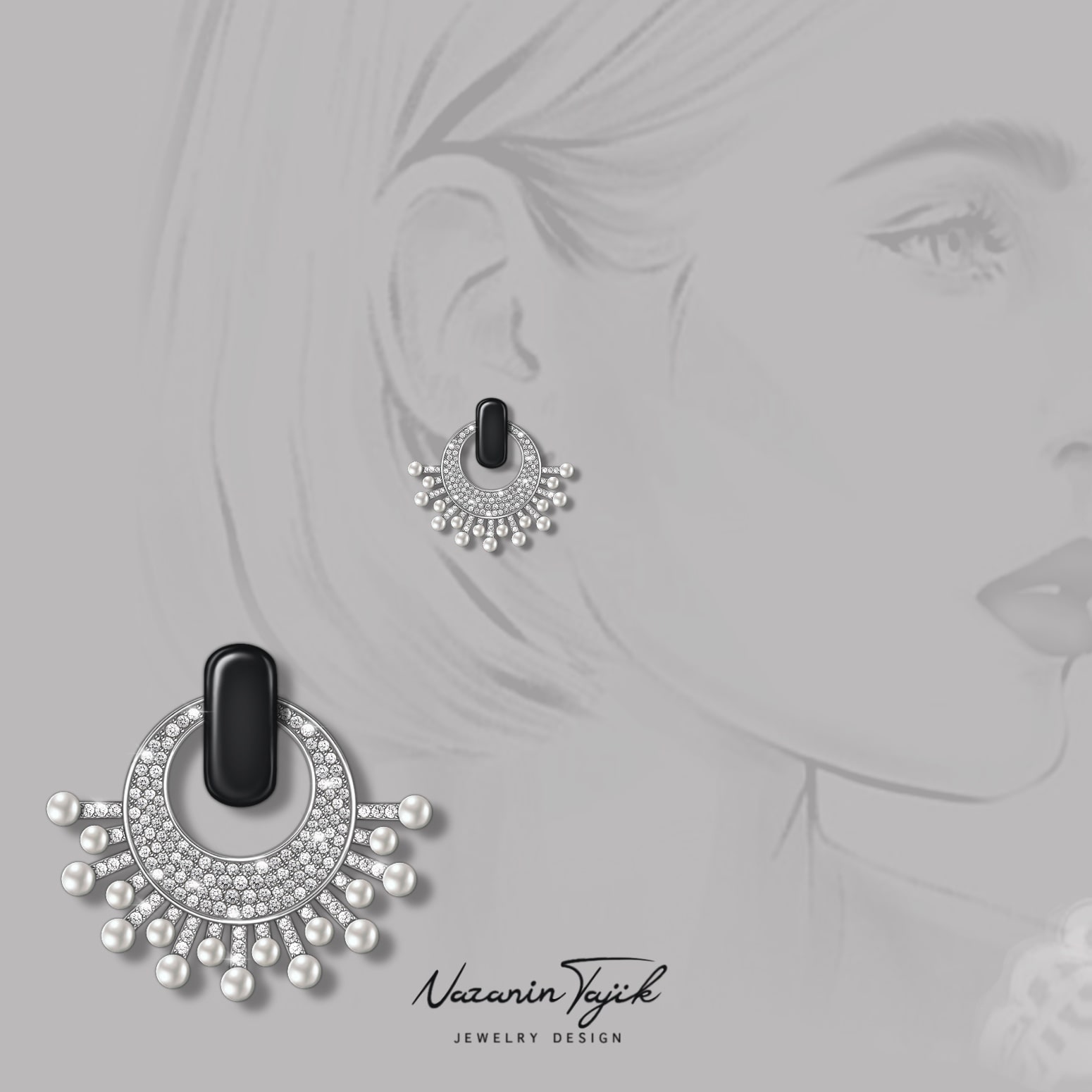 A conceptual design of the moon in its crescent style. Surrounded by a multitude of stars, the moon lies in the center of attention, similar to the beauty of its wearer attracting eyes.
This gorgeous comet orbiting the wearer's wrist is rich in minerals, namely sugarloaf emerald, diamond, gold, and malachite.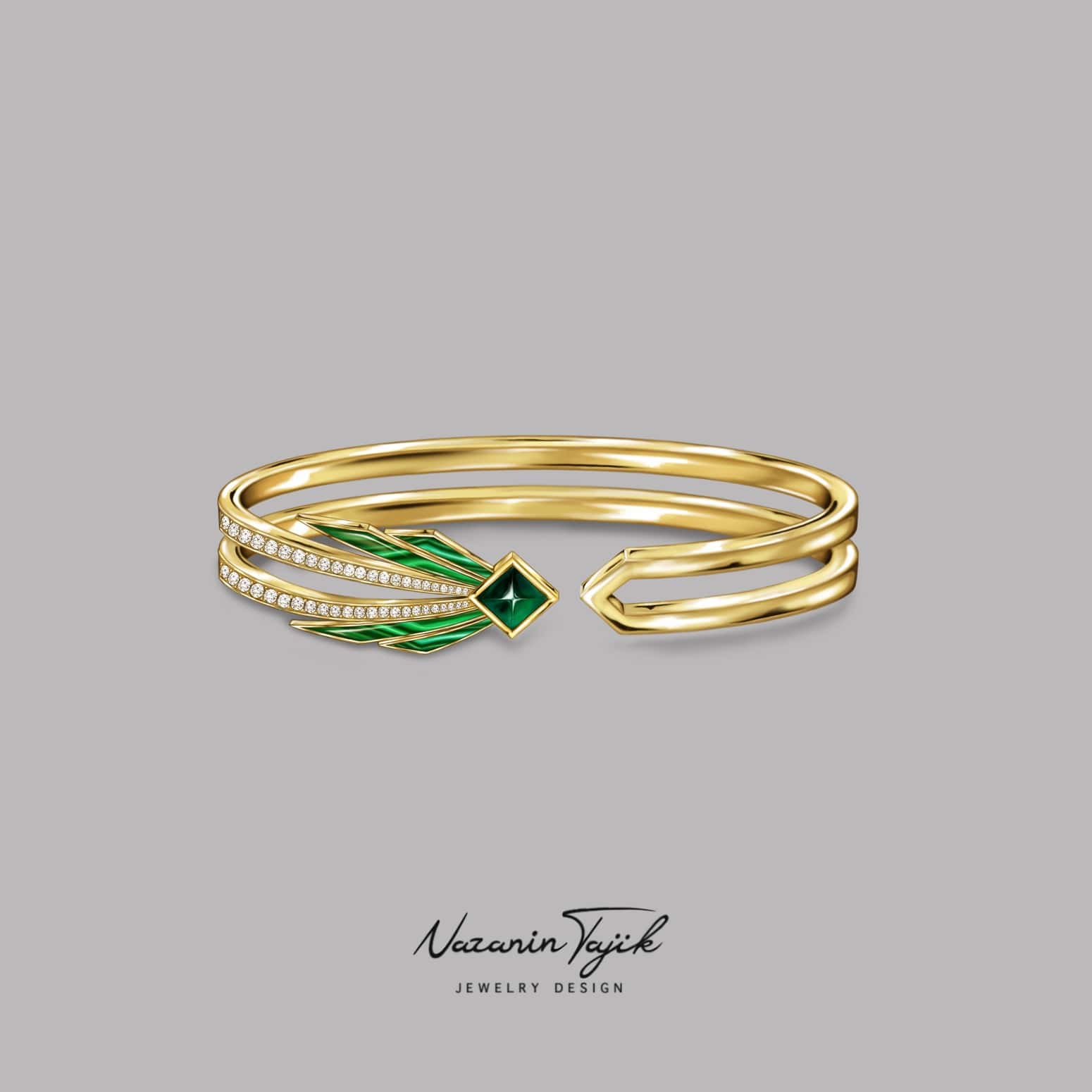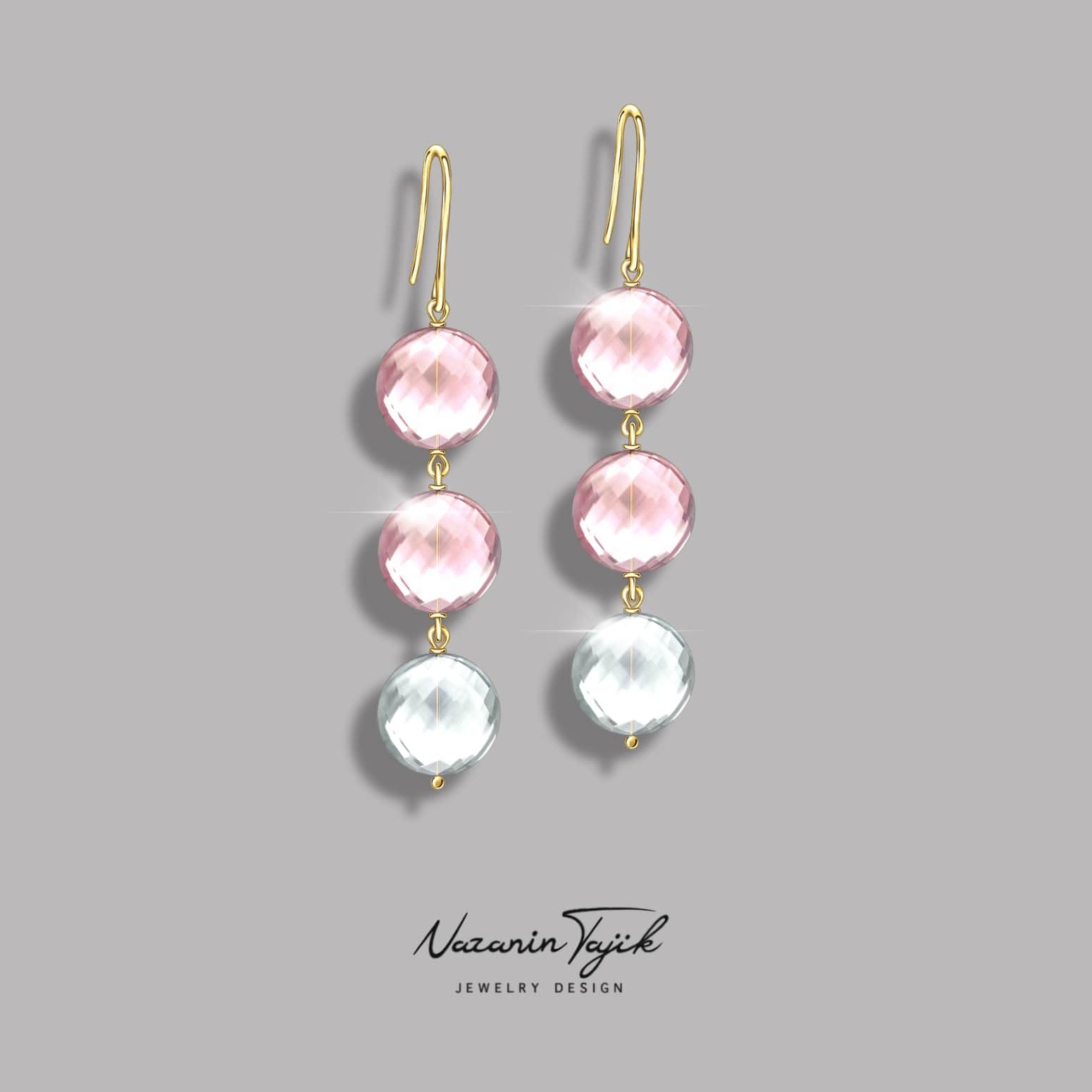 Custom Design
Colorful topaz with yellow gold joinings organized in a minimalistic fashion making simple yet shiny earrings.
Custom Design
Opal, emerald gemstone, mother of pearl, and diamond form the dandelion; the flower's stem is a hinged open collar made of white gold.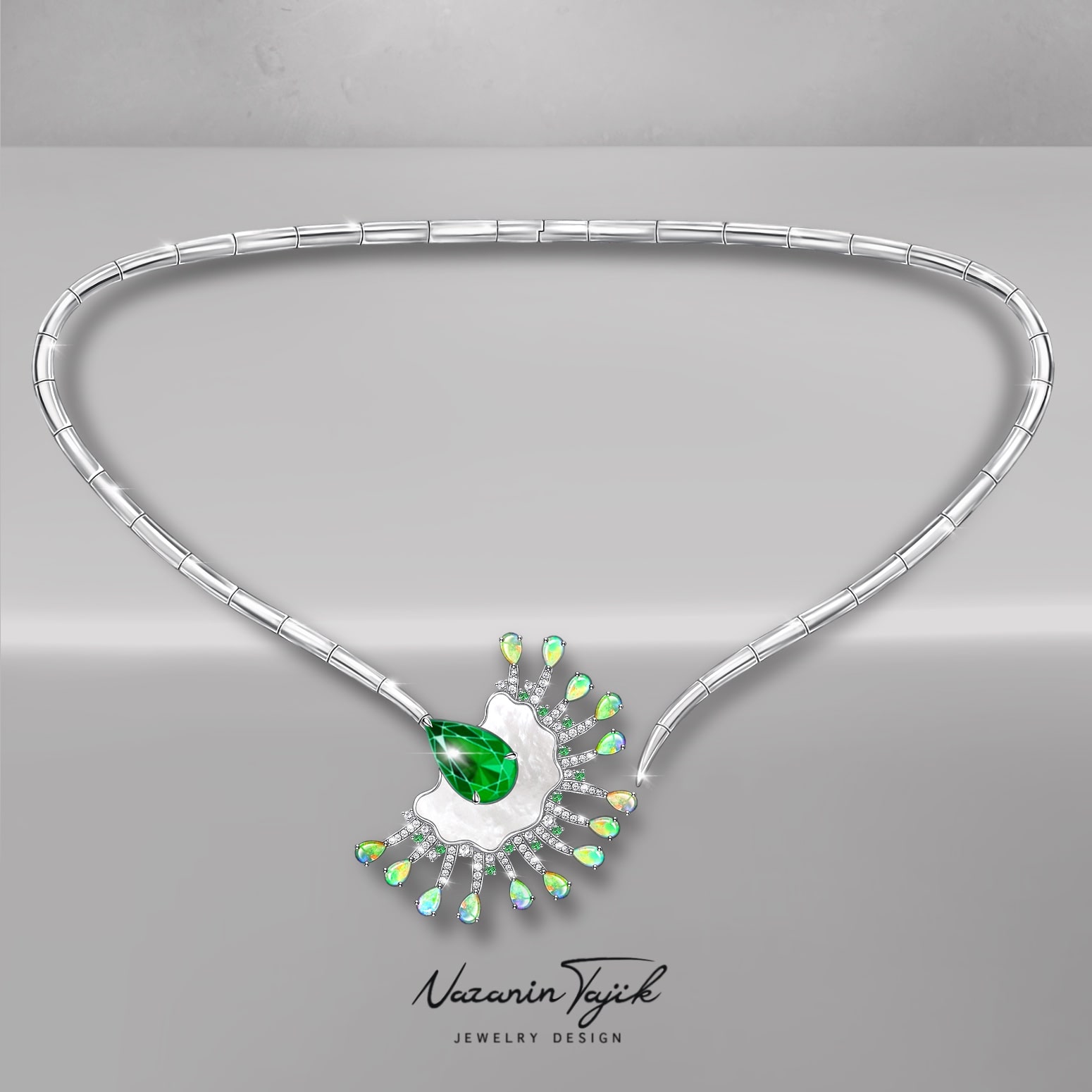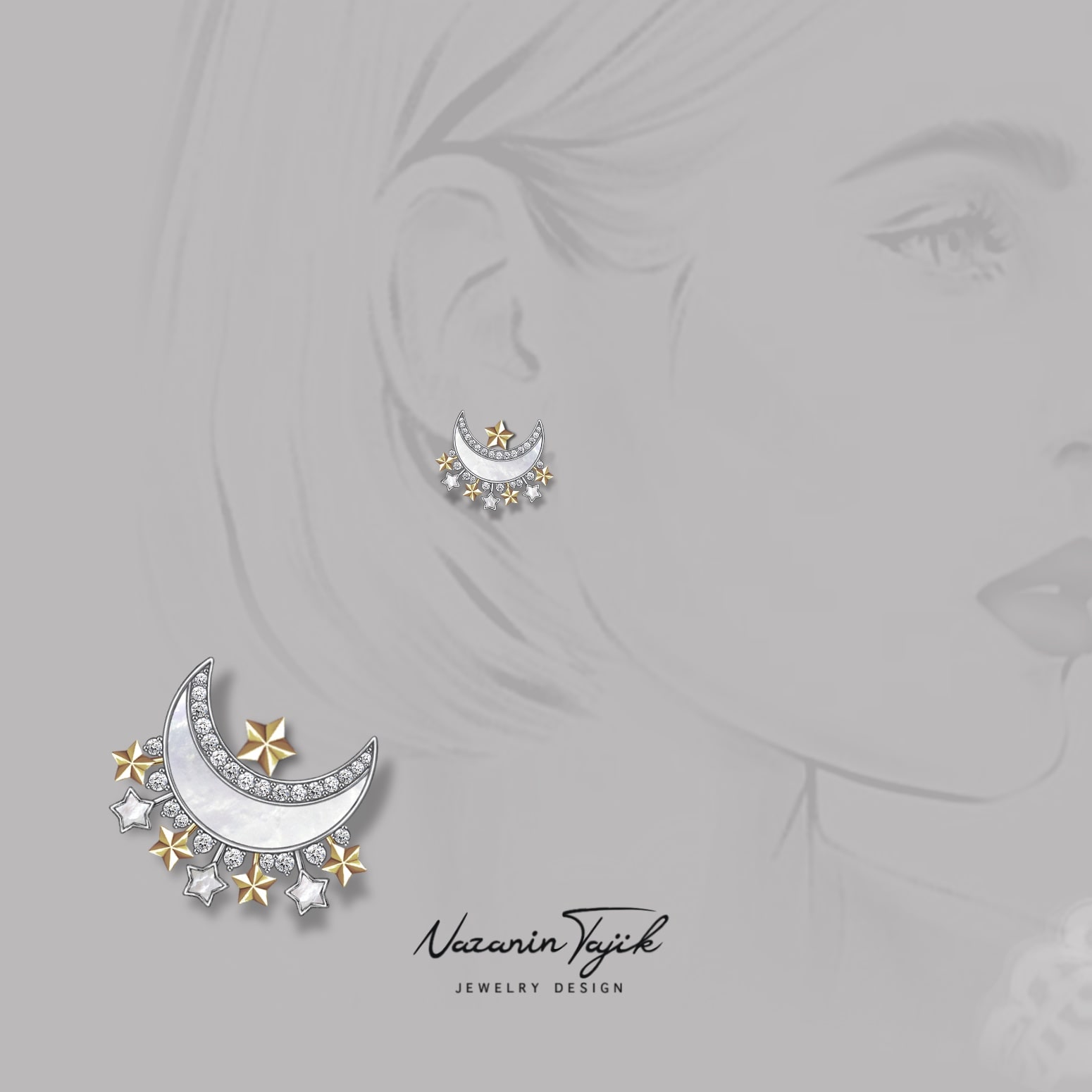 Custom Design
A pair of white-gold moon crescents made of mother of pearl is connected to silver and gold stars as if the moon is generously donating its light at night to the stars around it regardless of their shape or color.
The perfect miniature of Christmas tree decorations worn as a necklace. Colorful stones, namely amethyst, emerald, and pearl, placed around twisted white gold.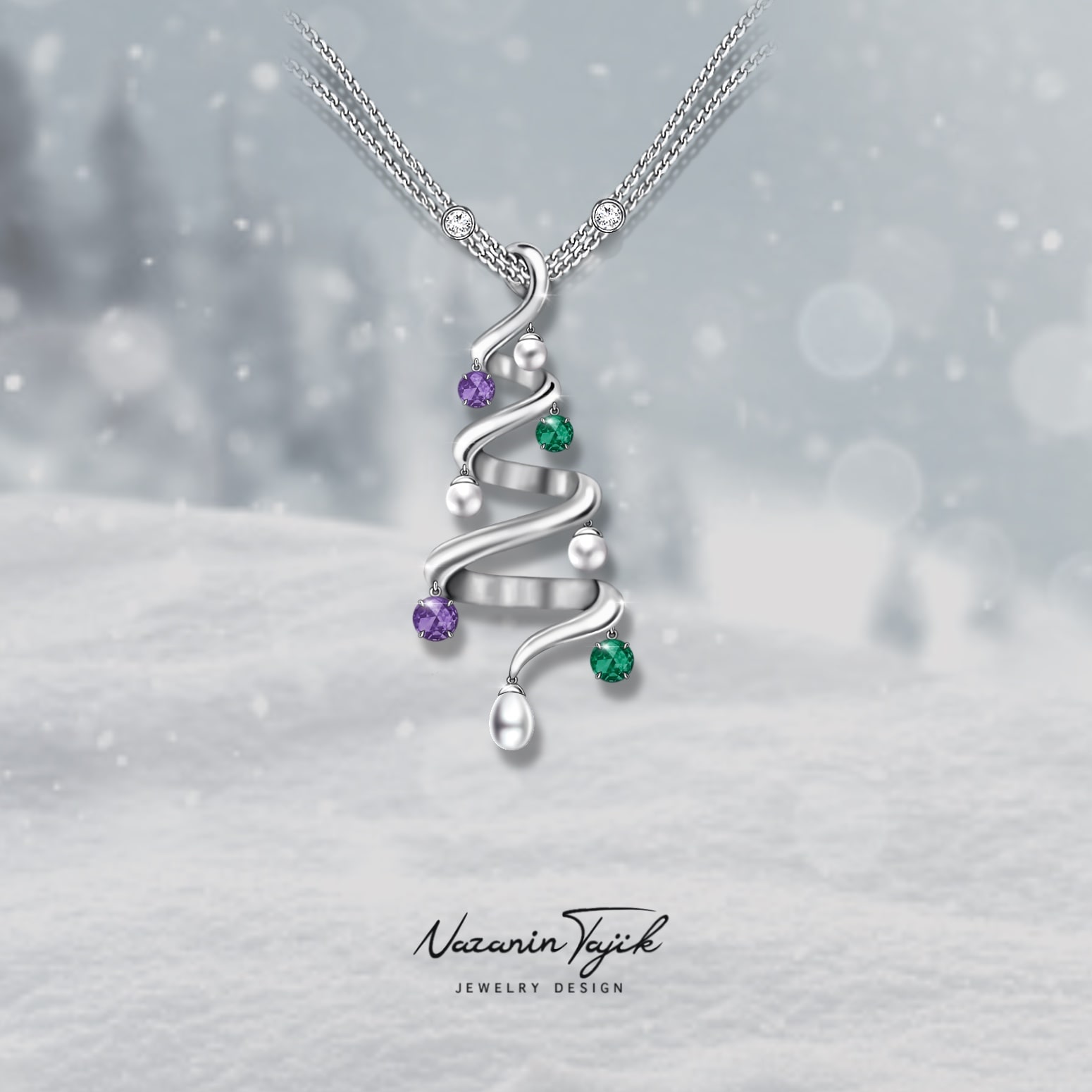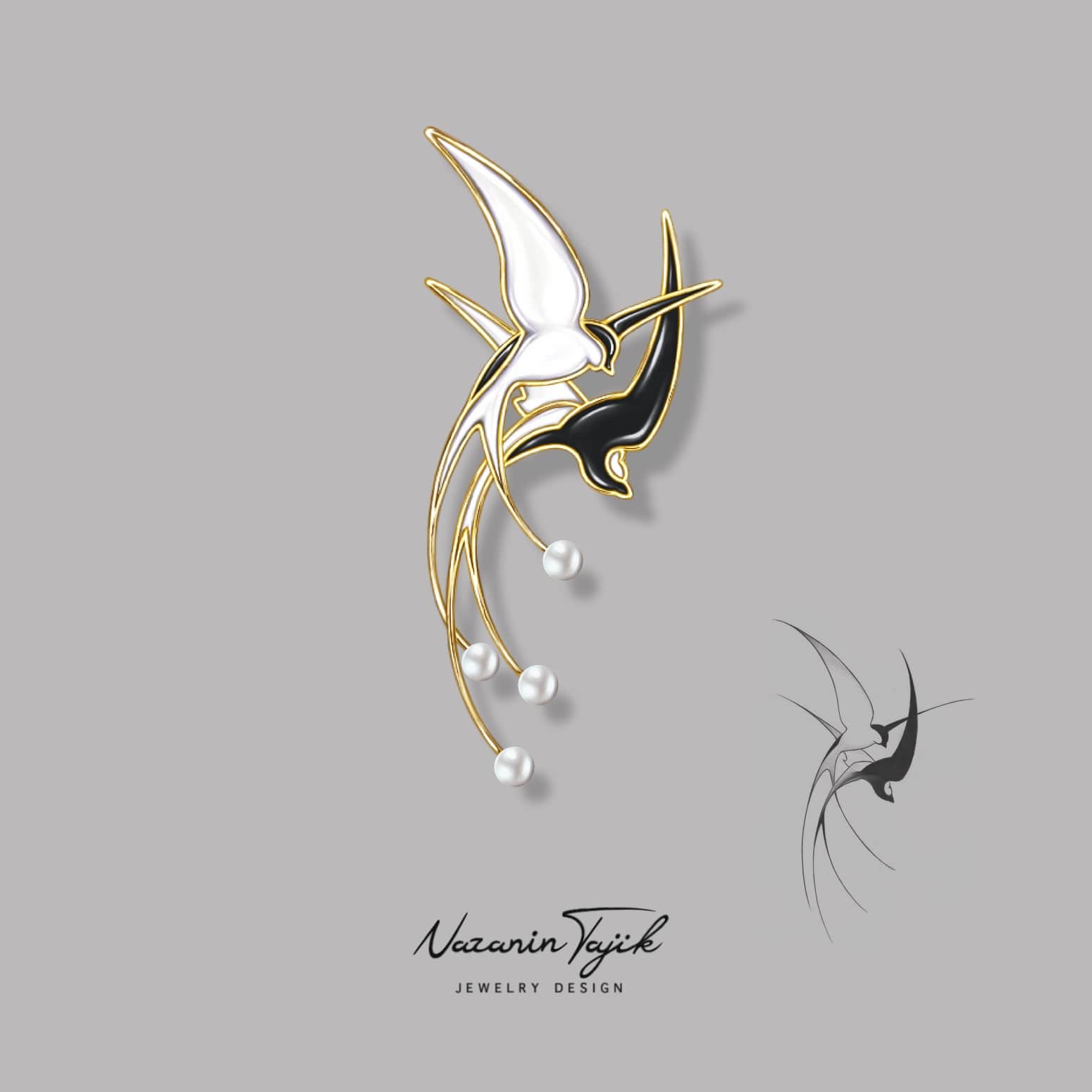 Inspired by migration, the brooch depicts a swallow couple's ascension to begin their journey. The artwork comes to life in gold and a handful of tiny pearls.
Custom Design
A bouquet of white pearls with yellow gold joinings nesting near a diamond-shaped, rose-gold topaz.